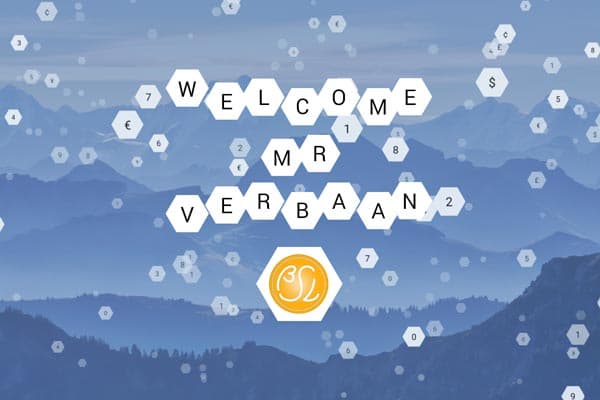 Unique video-wall for a reception area
Our client is an international company that offers smart, secure and hassle-free online payment solutions for consumers and businesses. They wanted a unique video-wall in their new reception area – one covering most of the wall. So they asked BSL to make a proposal. We have designers and developers in-house to design and script custom web applications designed for a range of browsers – and for almost any screen. However, never before for a screen of 3840 x 6480 pixels. The challenge here is to create a smooth flowing animation that can run on such a large screen area. They also wanted a number of special functions, such as:
• introducing custom logos for clients and prospects
• delivering personal messages to clients and prospects
• adding dynamic video content as picture-in-picture.
The development…
We started by creating several alternative designs for the video-wall. Once we had an approval for one of the designs, we started developing the web application. One of the challenges is optimizing a dynamic video display that can run smoothly at 60 frames per second on such a large screen. The development took around three to four weeks, but as the client urgently needed to have something running when they moved offices, we delivered an initial release during the first week. We hosted these early releases on servers located here in Breukelen. We delivered several versions, asking for client feedback on each new release. As the web application neared completion, we created a management interface. Using this, they can add custom messages, graphics and backgrounds to the video-wall. This means they can welcome individual clients/prospects, and change the look of the video-wall.  Once the software was completed, we installed the web server and the management interface on site.
The project is a great example of a continuous delivery process that actively involves client stakeholders. Delivering incremental releases that can be reviewed and improved, together with the client. 
At BSL, you have come to the right place for…
Unique solutions
OK, we love a challenge. And unique developments such as the video-wall fit nicely into this category. The client had very clear requirements, and there was no off-the-shelf solution, particularly given the need to support such a large screen area. Bring your unique project to us, and we will go through the options with you. Usually we can make a fixed cost design and build proposal, and guarantee delivery. So totally risk-free!
Long-term relations
One-off projects are welcome, but we always hope to
create a partnership with clients
. Almost like your own in-house team. The client supplies their business knowledge and requirements – and we use our development skills to advise you, and deliver your new products. And by continually renewing our technology, we can build on each success. Delivering new releases that meet your changing needs.
"This project presented a number of challenges. How about developing for three linked UHD screens, and a resolution of 3840 x 6480 pixels? Creating a smooth 60 fps animation whilst refreshing visitor information means that you need to spend a lot of time optimizing the code. But – quoting the A-team – I love it when a plan comes together!"