Reception system
We've been busy designing and developing a new reception system for use in the Showoffice building in Breukelen. Our first challenge was creating an entirely new design because the previous system was outdated, and we wanted to add several new functions. We designed the reception system to help visitors to find the right office within the building. For example, the system shows an agenda where visitors can see with whom they have an appointment, in which office and on which floor. Best of all, each business in the building can add entries to the calendar and create news items. The screen switches automatically between several different layouts, showing the visitor agenda, local company news, and news items from nu.nl.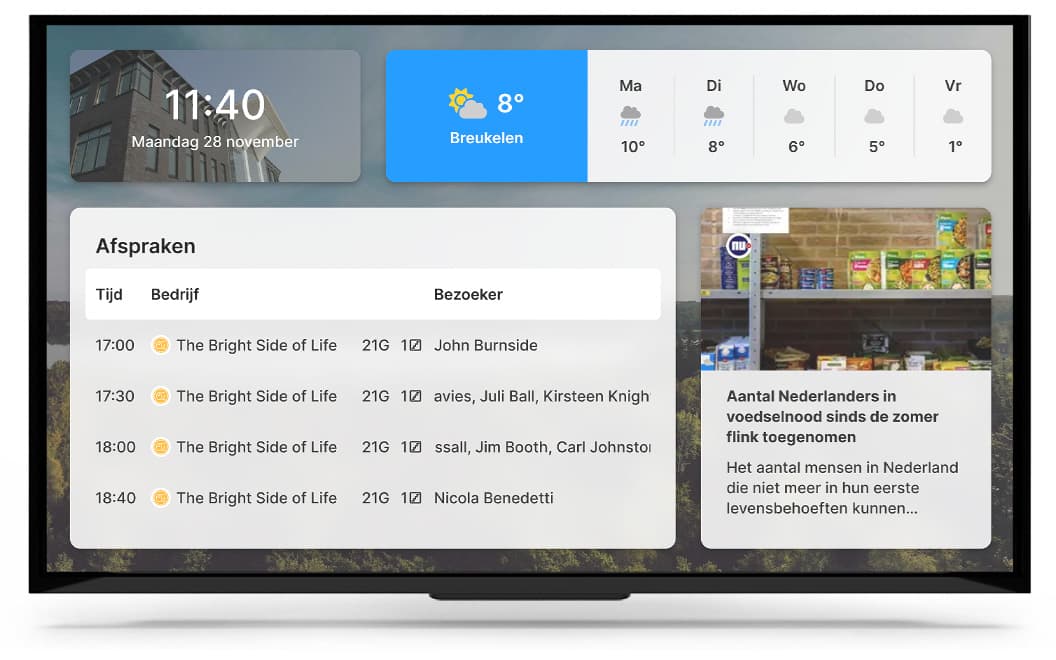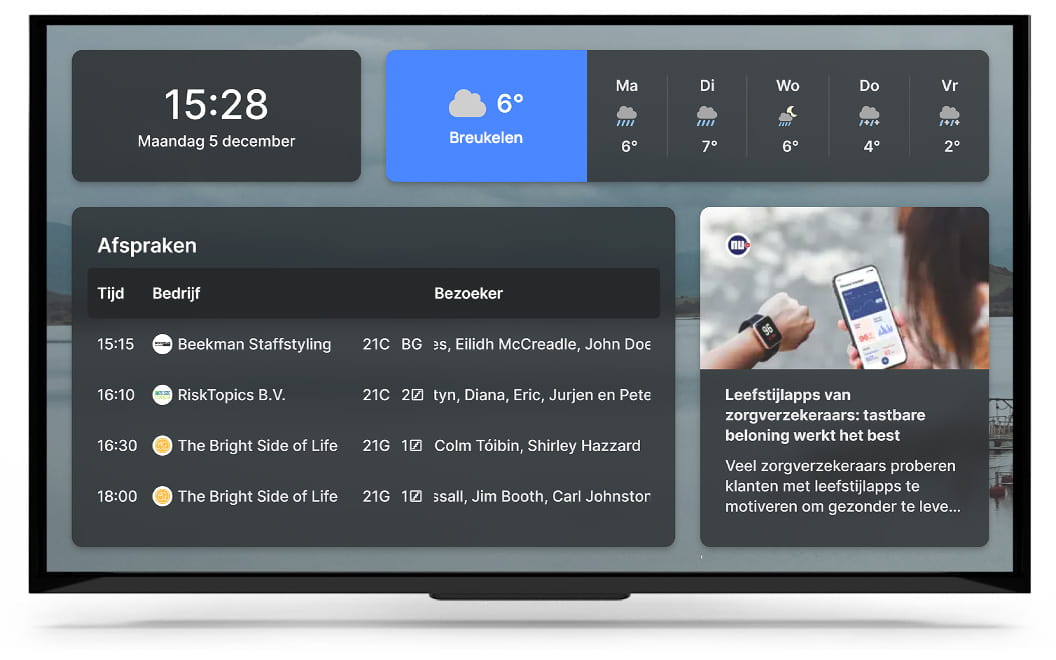 Features
The reception system displays the agenda and news items, but that's not all. We've added a weather forecast widget, showing the current weather and the weather forecast for the next five days.
We also designed a day and night mode and introduced a series of background images. Different images are displayed to match the current weather type. Also, the windows and widgets change position at regular intervals, and the background images move to avoid burn-in.
Do you want to learn more about the reception system or want your own system? Then please get in touch with us.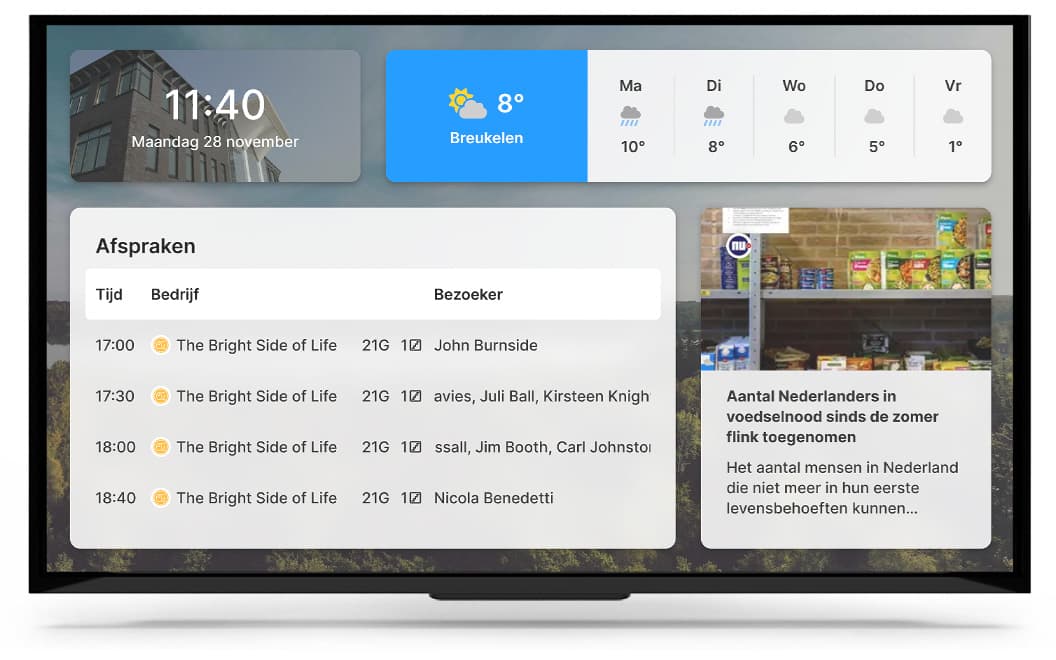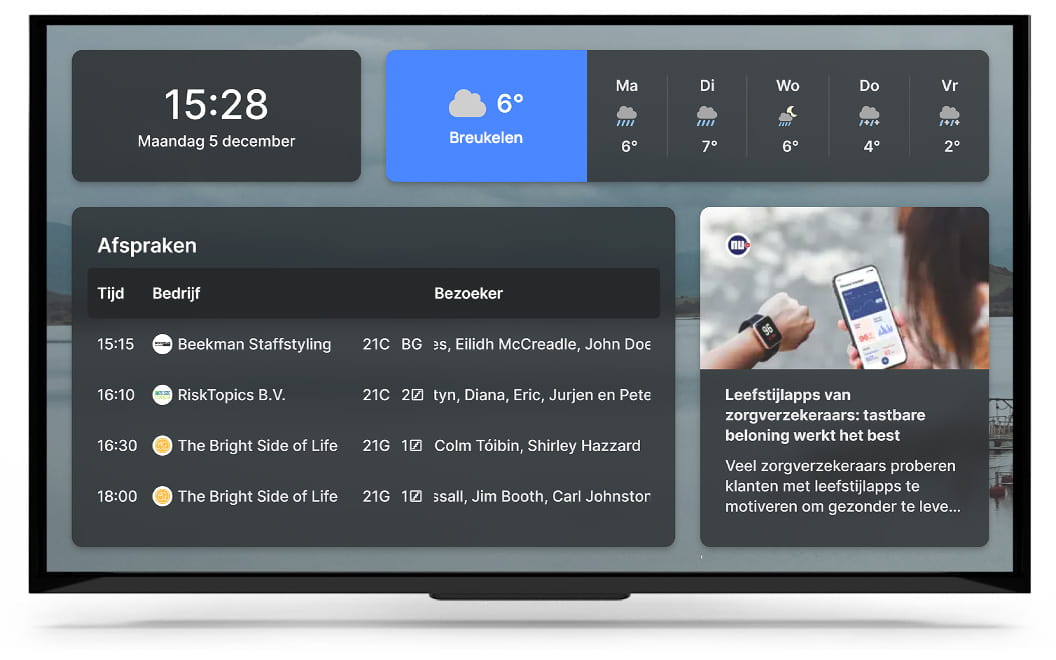 Slide the bar in the image back and forth to see the day and night modes.
At BSL, you have come to the right place for…
Unique solutions
Okay, we love a challenge. And developments like this custom software for unstaffed receptions fit nicely into this category. We knew what the Showoffice needed, and no standard solution was available, so we developed and delivered a custom solution in just a couple of weeks. So bring your unique project idea to BSL, and we will review the options with you. In most cases, we can offer a fixed price for projects and promise a fixed-date delivery for an initial release. So completely risk-free!
A complete package of services
Every client has deadlines, and it is usually a given that clients want to get their new software up and running as soon as possible. Our in-house specialists can handle almost every aspect of modern software development, starting with modern designs and prototypes. Uniquely, we can also develop and integrate modules and APIs. And once your software is up and running, we can support you during software installation and future extensions and improvements.
Long term maintenance
Once a software product has gone into production, users need long-term support and maintenance. This is why we offer customers a range of flexible support services. These can include many options, such as 24/7 availability, guaranteed response times and on-site visits. All at a fixed annual price.
"We built the Reception System as a single-page application (SPA) using the Preact framework. Content such as appointments, news items, rss feeds and images are managed in Directus, a headless CMS. We use several third-party APIs such as AccuWeather and Feedly to display external content."